Pesto and Co. is proud to present a new range of frozen products, particularly conceived for catering and buffet, that will bring a breath of fresh air to the world of appetizers.
The peculiarity of these products is the recipe of the salty sponge base which keeps the product friable and smooth even after cooling out of the oven.
Palm oil free, no emulsifiers, no hydrogenated fats and with the 25% less fat than puff pastry, these mini pizzas are way healthier and much more appealing than the usual buffet offer we are used to.
They come into five different flavours, all of which are natural and strictly selected; mozzarella and tomato, mozzarella and salami, mozzarella and artichokes, mozzarella and ham and mushrooms, mozzarella and olives.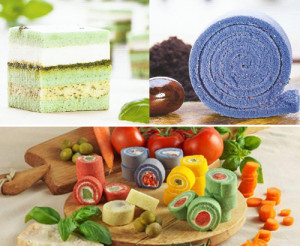 To create very personal and elegant canapés, we also present our colourful salty sponge sheets, all of which are palm oil free and without hydrogenated fats.
They are naturally coloured and flavoured into five different flavours: basil, tomato, carrot, cheese and olives.
Here we are presenting in few pictures, some of the possible serving suggestions,
but there are no limits to what can be done in order to transform a boring buffet into a joyful moment of conviviality.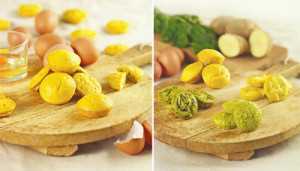 Mini omelettes; plain or with spinach and mini potato gateau of the size of a bite, also enrich the product range we are offering. All of these products are created into a brand new plant BRC and IFS certified and using only the best Italian ingredients available nowadays.